Farmer in the Dell Creamery
Jason and Jessica Kennedy married in 2000.  Together they purchased their small farm and are raising their four children.  The farm is located in the corners of Crawford and Vanango Counties near Cooperstown, PA. 
Farmer in the Dell is our version of a truly unique farm-to-table experience!  We offer a unique dairy bar/restaurant/convenient store serving our community and surrounding areas in a family-friendly environment. The store features an on-site processing plant that allows us to showcase the milk our beautiful dairy cows produce. Hope you will visit us soon!

REAL® Dairy Products
Milk
Farmer in the Dell Whole Chocolate Marshmallow Milk
Farmer in the Dell Whole Chocolate Milk
Farmer in the Dell Whole Mocha Milk
Product Brand: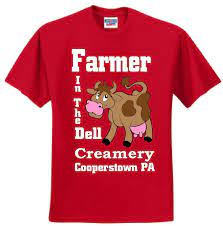 Looking to get listed in our
REAL® Guide? Apply to use the
REAL® Seal here.
Get Certified