Hope Creamery
We have been making butter under the direction of Victor Mrotz since he purchased the creamery in 2001, but our head butter maker, Gene, has been making butter at the creamery since 1964. Our production manager Jay has been making butter and managing its production since 2004. Not much has changed since 1964, we still make small batches of butter using fresh Minnesota cream from area farmers and we sell locally to grocery stores and restaurants. While most butter today comes from modern creameries that are automatically controlled industries, we still run a traditional creamery with skilled butter makers so you get the very best butter possible.

REAL® Dairy Products
Butter
Hope Creamery Butter-Salted
Hope Creamery Butter-Unsalted
Hope Creamery-Hi Fat-Unsalted
Product Brand: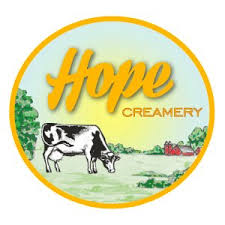 Looking to get listed in our
REAL® Guide? Apply to use the
REAL® Seal here.
Get Certified