Polka Dot Dairy
When they formed Polka Dot Dairy in 1956, Wally Pettit and Herb Koch likely had no idea that their tiny dairy distribution business would one day be celebrated for 50 years of service to its loyal customer base. The principles that they built their business on have remained firmly at the center of Polka Dot's business philosophy. High quality dairy products sold at fair prices, delivered with outstanding service - this is the tradition on which Polka Dot Dairy was built.
Since 1987, when Wally Pettit became sole owner, the commitment to service has continued. Today, the Pettit family carries on the high standards that led to the company's growth and prosperity. With a fleet of trucks transporting an assortment of over 100 dairy products to an ever-growing number of loyal customers, Polka Dot is viewed as one of the leading suppliers to the grocery and convenience store market in Minnesota and western Wisconsin.
REAL® Dairy Products
Buttermilk
Polka Dot Dairy Buttermilk-1% Lowfat, Cultured
Cream/Cream Products
Polka Dot Dairy Whipping Cream-Heavy
Half-and-half
Polka Dot Dairy Half and Half
Milk
Polka Dot Dairy Milk-1% Lowfat
Polka Dot Dairy Milk-1% Lowfat, Chocolate
Polka Dot Dairy Milk-2% Reduced Fat
Polka Dot Dairy Milk-Fat Free Skim
Polka Dot Dairy Milk-Whole
Product Brand: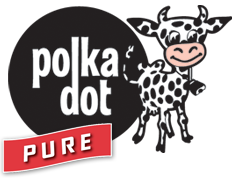 Looking to get listed in our
REAL® Guide? Apply to use the
REAL® Seal here.
Get Certified