Sonoma Creamery
Inspired by the vibrant agricultural bounty of Sonoma County the Sonoma Creamery® was founded in 1931. In the middle of the Great Depression, there was the belief in a simple concept– use the best milk and produce quality cheese. Recently we have expanded from our fresh cheese product lines into healthy shelf-stable snacks, Sonoma Creamery Cheese Crisps and Mr. Cheese O's. These gluten free, on-the-go crunchy real cheese snacks are perfect for snacking, dipping, or topping.

REAL® Dairy Products
Snacks
Sonoma Creamery Bacon Cheddar Crisps
Sonoma Creamery Cheddar Crisps
Sonoma Creamery Mr. Cheese O's-Cheddar
Sonoma Creamery Mr. Cheese O's-Parmesan
Sonoma Creamery Mr. Cheese O's-Sweet Chili
Sonoma Creamery Parmesan Crisps
Sonoma Creamery Pepper Jack Crisps
Product Brand: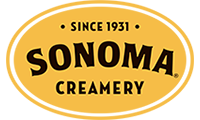 Looking to get listed in our
REAL® Guide? Apply to use the
REAL® Seal here.
Get Certified