Thrive Frozen Nutrition
Thrive Frozen Nutrition, founded in 2011 with a vision of creating the best tasting Nutrition Packed Ice Cream available. We have created a new category of ice cream for people with specific dietary requirements and those interested in a higher level of nutrition. We have seen Thrive Ice Cream meet many nutritional needs — meal replacement, dietary supplement, snack and dessert. Sure, there are other products out there, mostly drinkable products, but there are not any that combined nutritional benefits with the inherent pleasure of eating ice cream. So we created premium ice cream that packs outstanding nutrition into each mouthwatering bite. After all, It Is Not Nutrition If It is Not Consumed!
We consulted with food scientists, dietitians, speech pathologists and ice cream lovers alike. Found the highest quality ingredients. Perfected the ice cream formulation to include high levels of 24 vitamins and minerals, an abundance of natural soluble fiber, the highest quality milk proteins, and four strains of live and active probiotic cultures that have been shown to aid in digestive and immune health. Everyone who tastes Thrive Ice Cream says we are onto something!
Today, Thrive Ice Cream is available to healthcare facilities of all kinds, to college and professional sports programs, to caregivers of adults or children with special dietary requirements and to anyone who values nutrition and enjoys delicious, premium ice cream. Thrive Ice Cream is available in Creamy Vanilla, Simply Chocolate, Fresh Strawberry and No Sugar Added Creamy Vanilla. Thrive Ice Cream is available through most broadline food distributors and through Home Delivery ordered through our website.

REAL® Dairy Products
Ice Cream/Frozen Dairy Desserts
Thrive Ice Cream-Creamy Vanilla
Thrive Ice Cream-Fresh Strawberry
Thrive Ice Cream-Simply Chocolate
Thrive NSA Ice Cream-Creamy Vanilla
Product Brand: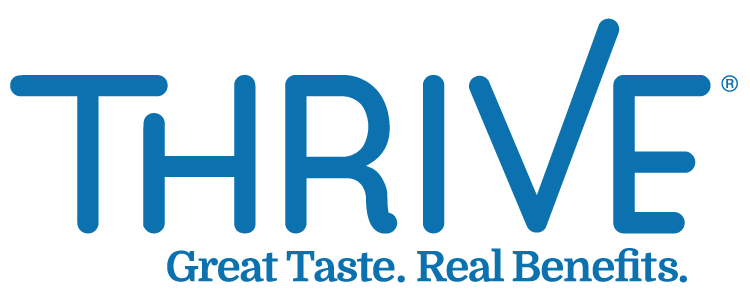 Looking to get listed in our
REAL® Guide? Apply to use the
REAL® Seal here.
Get Certified